First Time Grant Concert "East Meets West" Brought by Lydia Music Center and Pittsburgh Symphony Assistant Principal Cello Adam Liu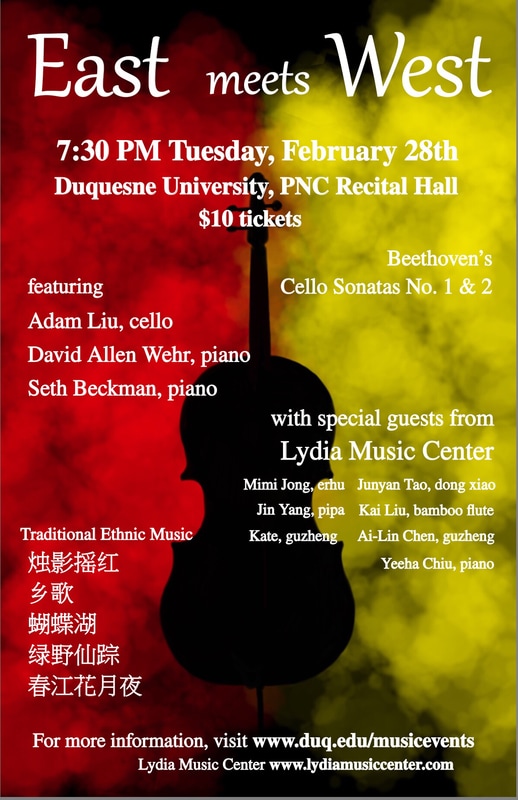 This is the first grand concert throughout Pittsburgh's history that explores the medley of traditional Chinese instruments with modern Western instruments, fusing the warmth of the cello sound to the soft melody of the bamboo flute and others. This performance is brought to you by Lydia Music Center and Pittsburgh Symphony Orchestra Associate Principle Cellist Adam Liu. It will be held on 2/28/2017 7:30 pm at Duquesne University PNC Recital Hall. Featuring Adam Liu, cello; David Allen Wehr, piano; Seth Beckman, piano; and with special guests from Lydia Music Center.Key Performers:​Adam Liu
Adjunct Professor of Cello at
duquesne university
Assistant Principal Cello, Eileen Dorman Chair at
Pittsburgh Symphony
Former Associate Principal Cello and Acting Principal Cello at
Montreal Symphony Orchestra
Former Cello at
San Antonio Symphony
Studied Grad Certificate with Lynn Harrell at
University of Southern California
Studied with Stephen Kates at
Peabody Conservatory
Studied Cello Performance at
Central Conservatory, Beijing
Yang Jin
Pipa performer Yang Jin is one of the leading Pipa soloists of her generation. Her musical interpretation and rendition are both deft and charismatic and her performance vivifies contrarieties of sentiments and inspires magnificent imaginations.
• Silver Award, Chinese Golden Bell Award for Music, China, November 2004
• 2nd Place, International Chinese Folk Instrument Competition, San Francisco, July 2008
• Merit Award, 16th Taipei National Music Competition, Taiwan, November 2009
• Dozens of concert tour with Richard Clayderman, 2007-2009
• Performed "Kronos Quartet and Wu Man Master Class" at Carnegie Hall, New York, March 2010
• Joined Yo-Yo Ma's "The Silk Road Ensemble" together with the famous Mark Morris Dance Group and well-known mugham singers Alim Qasimov in Great music epic "Layla and Majnun" world premiere, Ann Arbor, Michigan, October 2 • June 2016, Jin established The Gypsy Rad Ensemble along with assistant professor Wang Shuai from Cleveland Institute of Music and assistant professor Jin Yu from Kent State University.
Ai-Lin Chen
Ms. Ai-Lin Chen (陳艾琳) is a native of Taiwan. She started playing Guzheng at the age of 12. She used to be the Director of Chinese Music Ensemble at Florida State University.She is currently the Director of Purple Lotus Guzheng Studio. The mission of the studio is to promote Guzheng music through performance as well as private and group lessons. She has also recently formed the Purple Bamboo Chinese Music Ensemble with 3 other distinguished Chinese musicians: Mimi Jong, Yang Jin, and Kai Liu. She has performed as soloist as well as member of the Purple Bamboo in various venues in Greater Pittsburgh Area.
Mimi Jong
Mimi has been performing the erhu, an ancient Chinese two- string fiddle, since age eleven.
With the mission nurturing cross-cultural understanding through the arts, Mimi co-founded performing groups "Jasmine Dynasty", "AppalAsia" and "Silk Sound". Straddling between cultures and pushing borders, her passion is to create new overlapping musical frontiers.
As the music program director for "Silk Screen Arts and Cultural Organization" and the board president/founding member of "HarmoniZing", Mimi's contributions include inviting performing artists for concerts and residencies in Pittsburgh.
杨瑾
武汉音乐学院讲师,中央音乐学院琵琶硕士,美国Kent State University访问学者。
​ 四岁半习柳琴,九岁习琵琶。1995年9月考入中央音乐学院附小;2005年10月保送中央音乐学院研究生。
​2004年11月荣获中国音乐最高奖"金钟奖"银奖;1997年10月荣获"天华杯"全国少年琵琶大赛一等奖。
​ 先后举办多场个人专场音乐会,其演奏水平受到国内外专家及同行的高度肯定。录制《弦香》、中国首张民乐大师纯独奏发烧天碟"杨瑾琵琶"等多张琵琶专辑。
曾为张艺谋电影《十面埋伏》录制音乐,为电影《功夫之王》刘亦菲的琵琶艺术指导。
2006-2012年随国乐天骄组合与钢琴王子理查德克莱德曼巡演数十场。
​ 2010年3月作为中国大陆唯一入选的琵琶演奏者,受卡内基音乐厅之邀参加首届"Kronos Quartet and Wu man(吴蛮)Master Class",成为大陆登上世界最顶级音乐厅——卡内基音乐厅的新一代青年民乐演奏家。
​2013年9月至2014年9月赴美国肯特州立大学做访问学者,期间成功举办"Where East Meets West"琵琶独奏音乐会,并题为"Pipa琵琶-Traditional Chinese instrument and Performing Art"的专题讲座。
2016年10月获邀加入著名大提琴演奏家马友友(Yo-Yo Ma)的"丝绸之路"( Silk Road Project)合奏团,与世界顶级现代舞团Mark Morris Dance Group及阿塞拜疆国宝级木卡姆演唱家Alim父女一同出演阿拉伯经典爱情史诗《莱拉和玛吉努》,场场爆满。
陈艾琳
陈艾琳女士原籍是台湾。她12岁开始弹古筝。她曾在佛罗里达州立大学的中国乐团任总。目前,她是紫莲花古筝工作室主任。工作室的使命是通过演出以及私人和小组课程推广古筝音乐。她最近还与其他3个出色的中国音乐家成立了紫竹中国乐团。
唐勍(Kate)
唐勍自幼学习古筝,学习刻苦,基本功扎实,多次获得省市级比赛大奖。大学期间,师从福建省第一位古筝表演学教授张垒老师,多次获得校级、国家级奖学金。在各类全国性乐器比赛中摘金。